Judo Festival 2023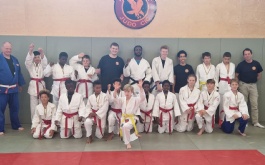 CBSC & Westcroft JC Judo Festival
The first CBSC/Westcroft JC judo festival took place on Saturday 15th July. Highly anticipated by our young judo athletes who have been training for many months and finally got to experience their first taste of competitive Judo.
After being put into weight categories they first witnessed a high level demonstration and contest between two experienced Judoka (Judo Athletes) from Westcroft JC. Following this they took part in their first grading and were awarded the grade of novice and a red belt.
The Judo contests that followed were exciting, sometimes close fought affairs with the students displaying great levels of technique, controlled aggression and self discipline. I am extremely proud of both the conduct and judo displayed by our young judo athletes. Win, lose or draw the effort, attitude and self discipline they displayed makes them all winners, and I impressed this sentiment on the team after the event.

Many thanks to Mr Bosdet and Wescroft JC for putting this event together.
Mr Bonti