Carshalton Boys Sports College is pleased to continue and expand its Handball Academy Programme and links with the England Handball Association (EHA) and Carshalton Titans Handball Club. The programme provides the opportunity for sixth form students to participate in a handball development programme whist following a full time Level 3 academic programme of study.
Coaches from the EHA and Carshalton Titans will be resident at the school and will be responsible for delivering a handball development programme; involving tactical, technical, psychological and physical attributes which will lead young people to gain valuable handball experience along with leadership and coaching opportunities.
The programme looks to challenge players' handball ability by competing at the highest level. Athletes on the programme will have the chance to develop and represent the school as well as Carshalton Titans U19 team who compete in both the National League and National Cup competitions.
Key benefits of the handball academy programme include:
Access to high quality coaching from national team coaches
Branded match and training kit
Opportunities to go on trips abroad to visit professional handball clubs/competitions
Opportunities to gain a place on the EHA AASE apprenticeship programme
Opportunities to undergo EHA Coach and Referee qualifications
Opportunities to gain coaching experience with youth teams/local schools
Extra training and competition with Carshalton Titans in EHA National Handball League
Opportunities for work experience and volunteering with Crystal Palace FC Foundation
Potential employment opportunities
The education programme offered at Carshalton Boys Sports College will enable players to study a full programme of A-Level or BTEC courses offered at the centre. Players are not restricted in their course selections however they must meet the individual entry requirements of each subject area. Potential players are actively encouraged to visit the school and discuss future career plans to ensure students receive the right information, advice and guidance for their potential career pathways.
Graduates of the programme have gone on to represent England and Great Britain at U18, U19 & U20 level, senior international caps as well as gaining scholarships to handball academies in Denmark and professional contracts in Portugal.
Anyone interested in registering for the programme needs to complete a Carshalton Boys Sixth Form application as well as an expression of interest form for the handball academy.
In conjunction with the academy, the EHA also run an AASE programme where students can gain an NVQ Level 3 in handball. More information can be found by clicking here.
Below are links to the last 2 U18 national finals that the students have taken part in where they have had the chance to play at the Copperbox Arena in from of hundreds of people.
EHA National Cup Final 2016: https://www.youtube.com/watch?v=p2soaKptBxU
EHA National Cup Final 2017: https://www.youtube.com/watch?v=8Pq9VJpsRJE
Below are pictures of all the members of this year's handball academy taking part in a Level 1 coaching course with the EHA. These athletes are now able to coach in other primary and secondary schools while potentially being paid to do so.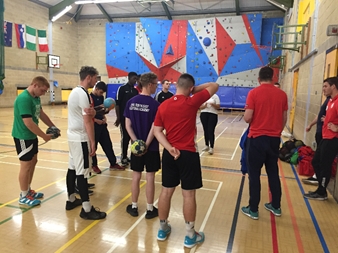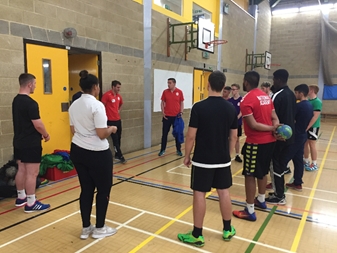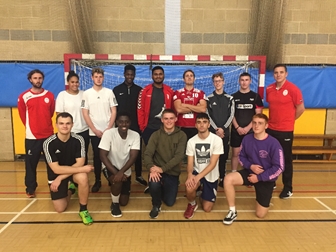 Opportunities in Denmark
Through the handball academy and link with the EHA there are options to go and play in Denmark for England as well as the opportunity to study there. Below are some shots of the academy players playing in Denmark over the summer along with two reviews from the boys who have lived out there.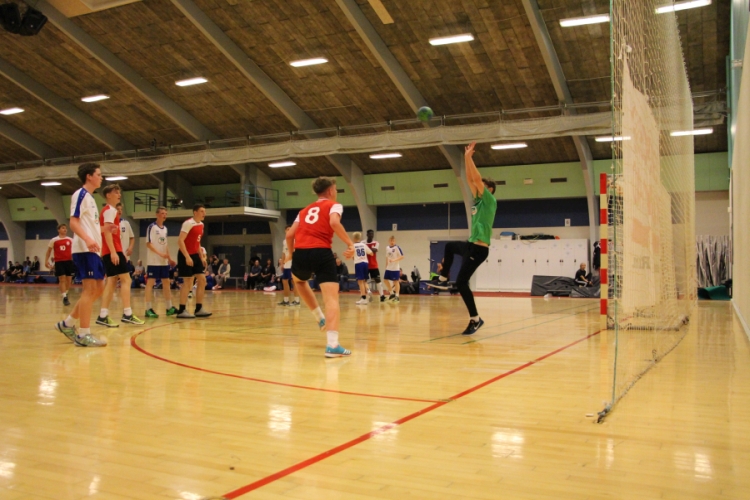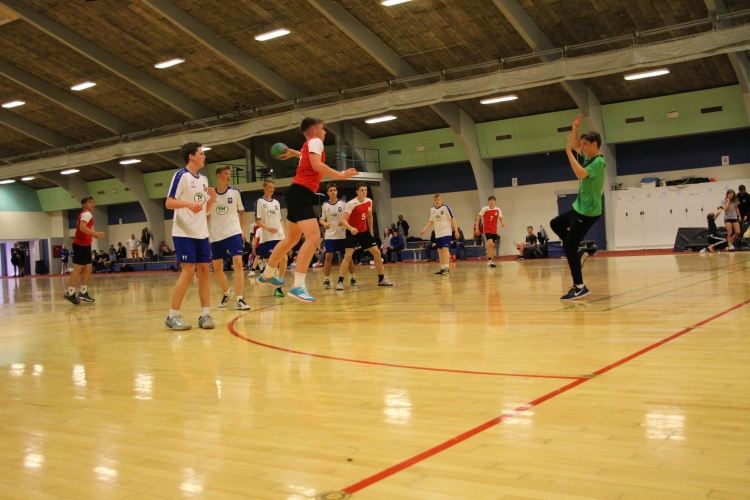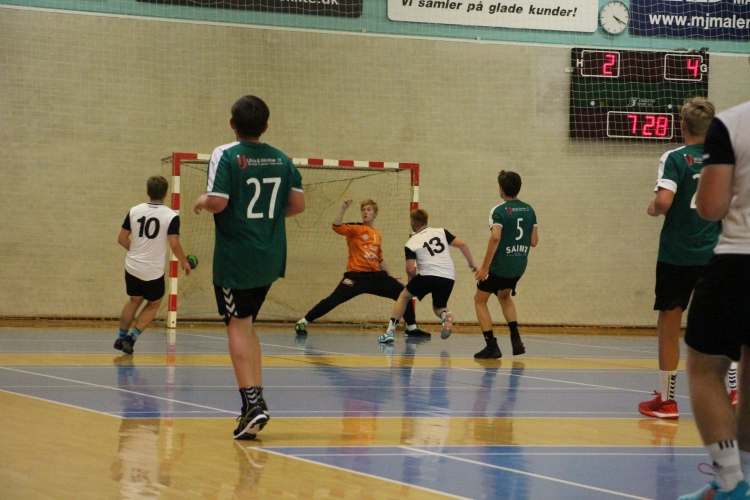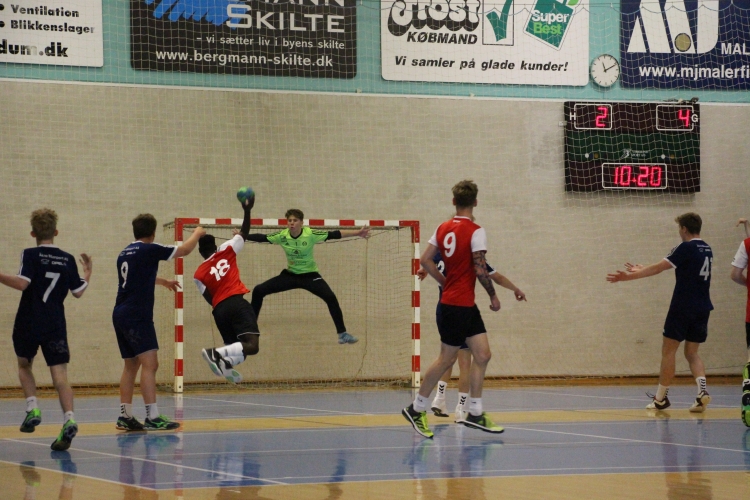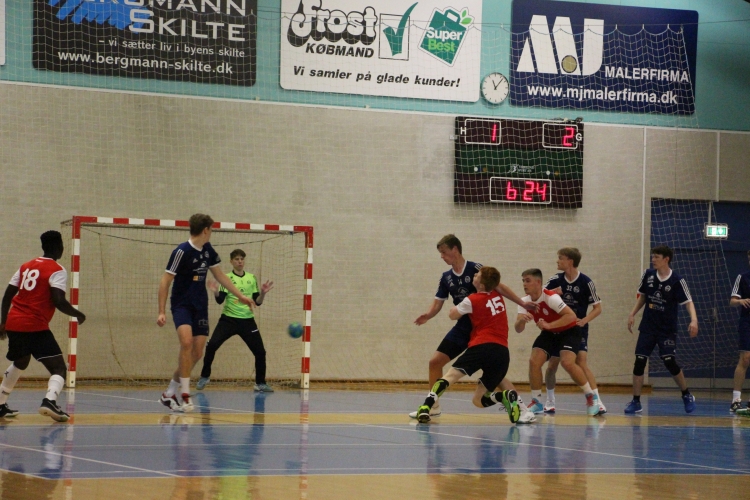 "My reasoning for committing to a year out in Denmark was predominantly due to a massive interest in Handball. As well as aspirations to develop and test my ability as a handball player against a higher level of quality competition. As part of the handball academy we were training 4 times a week under quality coaches and doing multiple gym sessions whilst also training and competing for AGF Handball. Outside of handball, at the school we got to visit many different and unique places like when we visited Flensburg to watch some Champions League handball. Overall I would say it is one of the greatest experiences you can have after leaving school if you seriously love handball or just enjoy playing sport in general there is no better place to stay and develop as an athlete and a person. I can honestly say enrolling at Idraetshojskolen Aarhus is one of the best decisions I have ever made." (Maxwell Colyer)
"My time in Denmark was filled with Handball! Training everyday with some days even twice! Joining AGF was massive in my development in Handball as I played against top Danish players my age and was a very good standard. Also at the IHA I trained with players from all over the world learning different styles of play and worked with them all to better myself. I went to Denmark to improve mainly on my handball ability to further my development and to push forward to playing at the highest standard possible! I also came out with great new friendships from all over the world where I can now travel to many different countries and visit different people all the time. I enjoyed my stay in Denmark so much and I can honestly say it was the best year of my life! I would recommend it to anyone as it was such a great experience and I gained many things from going there to do with Handball and also outside of sport!" (Adam Latter)