Year 6 to year 7 Pastoral Support at CBSC
Pastoral support for the transition from primary to Carshalton Boys Sports College begins as soon as you and your son join the CBSC family. We know transition can be a stressful and worrying time and so there is a Pastoral Support Worker dedicated to the transition process. They are there to answer any questions or concerns you may have from the outset and they will continue their support through to the end of year 8. Our transition programme has developed and continues to do so with the support and input from our parents and students. This is an integral part of the transition process and helps to build a firm foundation for students to achieve and succeed at CBSC.
The transition team will visit your son's primary school and talk to them about how CBSC works, what they can expect, what to do if they are upset, ill or worried about anything.
There will be a 1 or 2 week summer programme of activities which you can book a place on. This will help students to get to know each other, meet some of the staff so that in September there will be familiar faces and learn their way around the school site.
New Intake evening is the first opportunity for you and your son to meet their Tutor. Your son will then meet the other students in their tutor group. You will meet the pastoral support team including the Pastoral Support Officer (Sarah Tyson) and the Learning Co-Ordinator (Paul Lambert). You will also be given an information pack of everything you need to know about CBSC.
Taster day is a timetabled day of activities where students will be with their tutor group and sample some lessons and meet many of the teachers they will be taught by on a daily basis. They will learn what to do if they feel unwell or get lost and where to find someone they can talk to if there are anxious or upset.
Their first day in September will start with only Year 7 being in school to give them a chance to settle and get used to their new surroundings.
Our sleepover is a popular event at CBSC and happens at the end of the first half term in Year 7. Students are invited back into school on the day at 6.30 p.m. They take part in sporting activities, have a ghost story read to them by a member of the English Department and then settle down to watch a film. After staying the night in the sports hall they have breakfast together and are then allowed to go home. The boys all gain a great deal from this experience and it helps them to build on relationships within their year group and gain confidence.
The students will also be involved in rewards assemblies and trips that will be held throughout the year to celebrate the landmarks of success they have reached as individuals, tutor teams and as a year team.
Pastoral Support Officer
My name is Sarah Tyson and I am the Pastoral Support Worker responsible for transition Year 7 and Year 8. This enables me to get to know you and your son and support you throughout your first two years at CBSC. I am available from 7 a.m. to 3.30 p.m. every day: I can be contacted by phone (020 8714 3100), email (styson@carshaltonboys.org) or you can come into school and just see me for a chat.
I have worked at CBSC for 13 years and I am a mother to 3 boys, all of whom were educated at CBSC. Therefore I have experienced the transition process as a parent and understand how important it is to be able to have someone to talk to if worried or concerned.
I work closely with the learning coordinators of Years 7 and 8 and the CBSC Leadership Team. We at CBSC all firmly believe that communication between family and the school is essential to ensure a happy and successful time for you and your son at CBSC.
Learning Co-Ordinator
My name is Paul Lambert and I am the Learning Co-Ordinator of Year 7. It is my responsibility to guide your son from primary school into life at Carshalton Boys in the smoothest and most successful way possible. There is nothing more satisfying than seeing boys join our school and thrive in an environment tailored to your son's needs.
I have worked at CBSC for 8 years and been Learning Coordinator of Year 7 for the last 6 years. I work closely with the CBSC Leadership Team and Sarah Tyson to look after the welfare and the academic successful of your son. It is a job I feel very privileged to carry out, and I cannot wait to welcome your son into our family.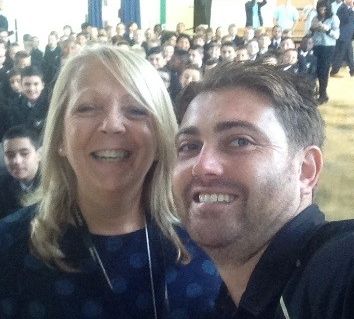 A Parent view
I'd like to thank the staff at Carshalton Boys, especially Mrs Tyson, for their support with my son and his transition from Primary to High School.
Jack attended the weeks summer camp though the school holidays which helped him get to know the school and meet other new pupils. With the schools continued encouragement Jack has settled happily and quickly in to Carshalton Boys.
Helen Goodfellow
student views
I enjoy going to basketball every week. I even got onto the Year 8 team. (Jakub)
It was really easy to ask anyone for help. (Alfie)
I love coming to school because all of the teachers are polite and really nice. (Ryan)
I love PE because there are loads of activities to do and lessons are really great. (Harry)
I really enjoy moving around the school to different classrooms for different subjects. (Max)
PE is great we have lots of lessons and clubs to do. (Raphael)
The sleepover was awesome, it helped me settle in and have fun with friends. (Liam)
I love Drama, the school puts on lots of plays and shows where we get the chance to perform. (Harry)